Welcome to SimwaPlastic.com

Simwa Plastic – a shop that display all that you ever needed in the plastic range of products. We service customers in the Klang valley  region and our distribution to retailers, eateries and restaurateurs and hardware outlet and manufacturing industries.
Established in 1999. Simwa Plastic specializes in the following products: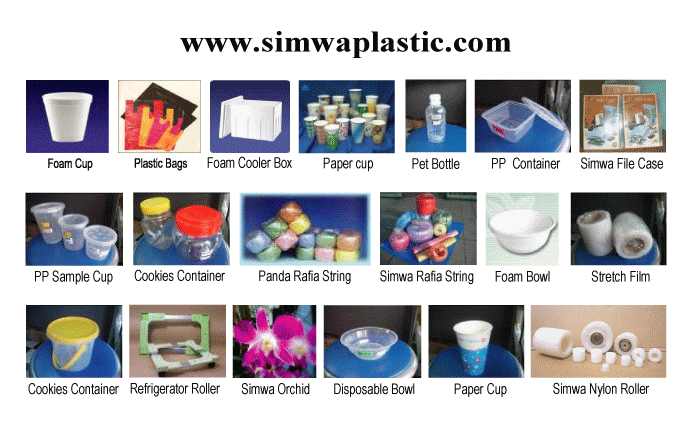 Panda Brand Super Strong raffia strings in various colors and texture :coarse, medium, fine and superfine strings for use of packaging and agriculture applications. Also in the range is 17 ½ inch cut strings and ready tied strings.
Plastic disposables including microwaveable containers, plates, bowls for food service industries.
Pet bottles of various shapes and sizes:300ml, 350ml,  500ml, 1 liter, 1.25 liters 1.5 and 5 liters. Pet bottle caps of various colors.
Foam products including lunch boxes, burger boxes, bowls, plates, cups and ice cooler boxes of various sizes.
Cutleries and paper products  ranging from forks, spoons, stirrers, giant and flexible drinking straws, chopsticks, serviettes
Plastic bags of various sizes : seal bags, garbage bags, handle bags, gift bags, laundry bags, bag on roll, stretch film and cling film
Simwa fresh cut orchids are available at affordable prices at fruit shops at SS15, SS19/6, USJ Taipan.
Simwa Plastic – small shop , wide range, providing fair price and value to customers.
For further inquiries please contact:
Manager Mr Patrick Pek : 012-226-3677